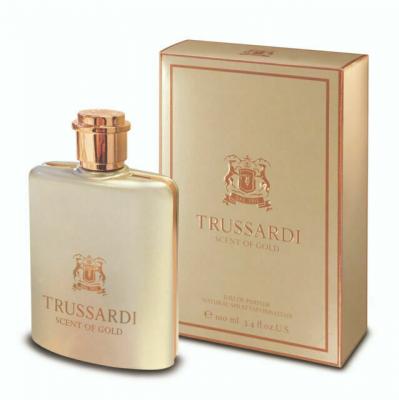 Situated in Milan, Italy, Trussardi is an Italian fashion house founded in 1911 by Dante Trussardi. Initially, the business had started as a leather glove manufacturer whose products were sold to both the general public and the Italian army in World War 2. It was not until Nicola Trussardi took over the fashion house in 1970 that the product portfolio expanded to other leather goods and fragrances. Non-leather products such as wallets, shoes, suitcases etc., were introduced in the product portfolio in the 1980s. From then on, Trussardi entered the global market very quickly, selling its products to men and women alike.
Even though the Italian brand initially specialised in leather goods only, its perfume department has earned its name. With a distinct scent of its own, each perfume is unique, and the large selection on offer has attracted quite a lot of female audiences. Here are some of the best Trussardi perfumes explicitly targeted at the brand's female customers.
1.  Trussardi Le Vie Di Milano Limitless Shopping Via Della Spiga
The Limitless Shopping Via Della Spiga is from the Le Vie Di Milano perfume collection released in 2020. Perfumers Quentin Bisch and Amelie Jacquin collaborated to formulate this fragrance. Made from eleven different scented elements, this Eau de Parfum is an amber floral fragrance. It has the sweet mixture of honeycomb and apples in its top notes with a hint of some citrusy bergamots. The middle notes comprise the floral combination of roses, jasmines and mahonial, with the sweet smell of honey drifting around the floral notes. Heliotropes and hawthorns make up the base notes alongside musk and tonka beans.
The perfume is marketed towards both men and women. It has been popular among the targeted audience ever since it came out. Its long-lasting longevity and strong silage, along with its wonderful aroma, instantly hooks the attention of people. Another plus point of this tantalising fragrance is that it is suitable for all seasons and occasions. So, you can spritz it on whenever you want without having to give it a second thought.
2. Trussardi Delicate Rose
The Delicate Rose is a creation of the Firmenich master perfumer Nathalie Lorson launched in 2012. It is a fruity-floral fragrance with the sweet and bitter citrusy notes of yuzu and kumquat as its top notes accompanied by woody notes of bamboo. The floral scents of lotus, jasmine and rose, and the fresh and sweet hints of apples remain at the perfume's heart. Finally, the fantastic ingredients sandalwood, musk, woodsy notes, and cedar make up the perfume's base notes. It comes in a glass bottle containing a shimmering pink liquid with a gold cap on top.
It is yet another Trussardi that has been in trend ever since its release, primarily due to its reasonable longevity, silage and affordability alongside its invigorating scent. It is an excellent choice for both formal and informal events.
3. Trussardi Sound of Donna
The amber floral fragrance named Sound of Donna is a creation of the Symrise master perfumer Emilie (Bevierre) Coppermann, released in 2018. It is made using a selection of ten ingredients. So, the top notes are comprised of mandarin orange, green almond and magnolia. Included in the middle notes are heliotrope, rose and tuberose. The base notes are made of sandalwood, chestnut, whipped cream and patchouli. Most people have found the citrusy scent of the mandarin orange shining through during the day while the whipped cream becomes the star during the night. One of the plus points about this perfume is that it is not sickeningly sweet. The formula is perfectly balanced so that it is not headache-inducing for people with a low tolerance for intense smells.  
Sound of Donna also has admirable longevity and silage and is ideally worn during the winter and fall seasons. The purple bottle comes in three different sizes – 30 ml, 50 ml and 100ml. So, women can pick up any size of their choice of this Eau de Parfum.
4. Trussardi Scent of Gold
Another release from 2018, the Scent of Gold, was formulated by the brilliant mind of the senior perfumer from Symrise, Alienor Massenet. Massenet used a small bowl containing only nine ingredients to invent this deliciously aromatic fragrance. Cinnamon, dried plum, and bergamot make the top notes, while violet, tobacco and jasmine make up the middle notes. The base notes include vanilla, labdanum and patchouli. The floral notes give the perfume a rich, sweet scent, while the cinnamon and patchouli are spicy. This sweet and spicy fragrance is marketed towards both men and women. While the opening has an intense and rich smell, the dry down is creamy and soft. The Scent of Gold has incredible longevity alongside exceptional silage. People have been surprised by these features since the fragrance is quite delicate. It is perfect wear for morning walks during the fall and cold, wintery nights.
5. The Black Rose 
The Black Rose is a creation of the perfumer Pierre-Constantin Gueros. It was launched in 2017 and has been in trend ever since. This perfume only has pink pepper in its top note and taif rose in its middle note. The base notes are comprised of vanilla, musk, amber and patchouli. The combination of the ingredients makes the perfume warm, soft and slightly powdery on the skin. The top note made of pink pepper adds a sharpness to the scent but is fast in dispersing into the air, leaving behind the floral taif rose. This perfume has moderate longevity and silage and is suitable for day-to-day wear.
6. Trussardi Le Vie Di Milano Musc Noir Perfume Enhancer
This is another fragrance from the Le Vie Di Milano perfume collection released in 2020. It was created by perfumer Leslie Gauthier using iris, jasmine, cedar and musk. Just like the Limitless Shopping Via Della Spiga, this one has been on the rise for its wonderfully formulated scent ever since the collection was launched. With moderate longevity and intimate silage, women are bound to fall in love with this floral and woody fragrance. It is undeniably suitable for all seasons and occasions, making it yet another go-to perfume for most women who have tried it.
These are only a few of the best Trussardi perfumes for women. Some happen to be from different collections. There is a high chance that if you like one of the fragrances from a collection, you will enjoy other ones in the same collection.