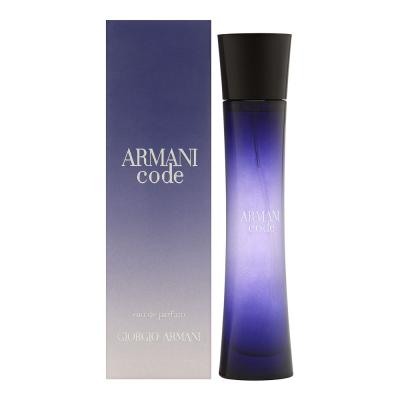 To say my twins had been acting strangely for the past two weeks would be an understatement. The furtive glances and hushed whispers they constantly exchanged were not as discreet as they may have thought. Or maybe it was just my motherly intuition that caught onto their exchange. I tried to surreptitiously confront them about it by casually bringing up how they had recently started spending more time together than usual, only to be deflected with excuses, such as having a school project together and needing help with homework assignments.
Their uncanny behaviour had me concerned that they may have gotten into some trouble which they were unwilling to share with me. Hence, I never expected to be handed a meticulously gift-wrapped box on the second Sunday of May.
My heart melted when I peeled off the blue and silver wrapping paper to reveal a rectangular, cuboid perfume box of Armani Code for Women. My eyes were glossy as they welled up tears when my twins wished me a happy Mother's day in unison. They had apparently been saving up their pocket money for the past six months to buy me this. Whether or not I liked the present, I definitely appreciated their loving gesture.
Italian fashion designer Giorgio Armani founded his brand, named after himself, in 1975. The brand's offering include a variety of products ranging from haute couture, ready-wear, and leather goods to eyewear, cosmetics, and home interior. Therefore, Armani has been a fast-rising brand and quickly became well-known all across the globe. The perfume presented to me by my children, Armani Code for Women, was formulated by the master perfumers Carlos Benaim, Dominique Ropion, and Olivier Polge.
The box was, as aforementioned, a rectangular-shaped cuboid. It was coloured plain blue-white ombre and covered in clear polythene. Upon taking off the polythene, my hands gently grasped the smooth surface of the box as I reread the name of the perfume written in a white script on the front side of the box. At the bottom, a white font read "Eau de Parfum" (indicating a 15-20 percent concentration) and the brand name, below which the quantity was 75 ml. A questioning glance at the twins confirmed my suspicions regarding the price of the gift. The official website offered them two different choices – a 50ml bottle for $72 or a 75ml bottle for $92. It was vividly understandable that they had definitely splurged on their gift of choice. The only plausible explanation I got was that they had "enough money saved up for it."
Opening and tilting the box towards my hand made a cold glass bottle slid right into my palm. The concave-shaped, cylindrical bottle was a mixture of blue, black, and white with "Armani Code" written in a white script across the middle. The cap was made of smooth, black plastic. It was also crafted in a clever manner to fit in with the concave design of the bottle. A wide grin overtook my features as I came to the realization that the kids had gone along with the colour scheme when they chose the wrapping paper.
The perfumers had combined eight different ingredients to create this masterpiece. The top notes are Italian orange, jasmine, and bitter orange. Meanwhile, the middle notes comprise jasmine, orange blossom, and ginger. Finally, the base notes are honey, vanilla, and sandalwood.
I quickly pumped a few sprays into the air, eager to inhale and see what my new fragrance smelled like. The citrusy smell of the Italian and bitter oranges hits the air first, followed by the floral scent of the jasmine as they overtake my sense of smell with how pleasant they are. As the top notes gradually settle in, the jasmine lingers while being joined by the orange blossoms and ginger. The floral ingredients were more prominent to me than the ginger, which was very faint and almost non-existent to my nose. Then, the pure bliss arrived when the base notes of honey, vanilla, and sandalwood made their way into the fusion. The sweetness of the honey is well-adjusted by the creamy vanilla and musky sandalwood in such a way that the fragrance is prevented from being too sweet or floral.
The first time I wore it out in public was when I had an important work meeting with foreign delegates. The scent wafted through the air stealthily, creeping upon the people present in the meeting room. It made a few people inquire me later on about what perfume I had sprayed on. It shocked no one to know it was another ingenious invention of Armani. A couple of them had managed to predict what it is but wanted to confirm their inkling regardless.
At the end of the day, I observed it had easily lasted on my skin for around 8-9 hours. Its silage is pretty impressive as I could still detect faint traces of the Eau de Parfum in my room that night. It is definitely a perfect fragrance for any occasion, whether it is a birthday party, a night out with friends, or a wedding. This fantastic invention has quickly become one of my year-round perfume choices. It is going to be extremely difficult for anyone to top this present. My twins have certainly outdone themselves with this particular choice. Call me a little greedy, but I definitely cannot wait for my next Mother's day present.
Here are my preferred ratings for this extraordinary perfume:
Fragrance        9/10
Bottle               8/10
Longevity        8.5/10
Silage               8.5/10
Overall             8.5/10
Here is a quick overview of my review of the Armani Code (2006) made by Giorgio Armani to cut a long story short.
The Pros are:
It is from a worldwide famous brand.
It is appropriate for all seasons.
The bottle is wonderfully crafted.
The longevity is great, usually lasting for at least 8 hours.
Amazing silage.
Strong presence in upper-class socialite or business meetings.
The Cons are:
It is only for women :)
It does fall under the pricey range of fragrances, so it may not be affordable for everyone.