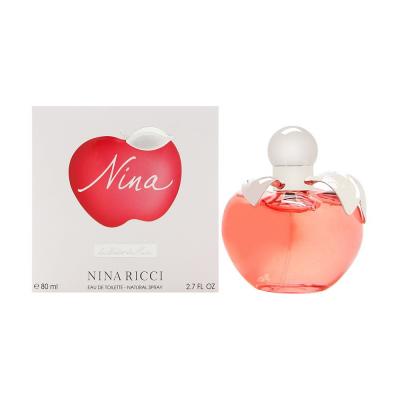 When my twins mentioned they had their school play coming up; I was pretty excited for them. They had been rehearsing their lines every spare second they got and had them memorised to a T. My daughter mentioned that she needed to get some new shoes to go with the school's outfit for the play. That's what led us to take a trip to the mall. During that very trip, my eyes landed on the beautiful perfume bottle of Nina by Nina Ricci. It was sitting on a display shelf of the shop, and I just had to get that beauty without a second thought.
About the brand
Nina Ricci is a French brand founded in 1932 by the mother-son duo of Maria Nina Ricci and her son Robert. Puig, the Spanish fashion and beauty group, purchased the brand in 1998. It offers clothes and accessories alongside its perfume range. The fragrance, Nina by Nina Ricci, is the creative invention of master French perfumers Olivier Cresp and Jacques Cavallier-Belletrud. Whereas both the perfumers have worked with the Swiss company Firmenich, Cavallier has also worked with brands like Louis-Vuitton, Christian Dior and Yves Saint Laurent. So I had no doubts that this perfume would be a masterpiece.
Packaging
Imagine my disappointment and how much I cursed myself for not thinking my choice through. The Eau de Toilette, which is only 1-3% perfume concentration, comes in two different sizes, 50ml for $39 and 80ml for $70. I should have reconsidered my decision when I saw that the only available size in the shop was the 80ml one. Did I reconsider? Of course not! I was too awed by the bottle I saw to think rationally.
The Eau de Toilette came in a white, cube-shaped box. The name of the fragrance was written in white over the picture of a bright, red apple and "La Belles de Nina" written right below that. The brand name was printed in black at the bottom of the front side of the box, and the bottom left, and right corners mentioned the quantity in ml and fl oz. The product's bar code was given on the bottom side of the box, along with some information that I did not bother reading. Overall, it was a very plain packaging which was a sheer let-down. 
The bottle itself, however, was enchanting. It was made of glass and shaped like an apple, filled with a vivid reddish-pink liquid. It had a silver plastic cap with a few protruding pieces acting like leaves for the apple, one of which had the brand name engraved on it.
Notes
The fruity-floral fragrance was made using a combination of nine different ingredients. The top notes consisted of Amalfi lemon and lime. The middle notes are comprised of praline, peony, Granny Smith apple and datura, whilst apple tree, musk, and Virginia cedar wrapped up the base notes.
When it came to the time I first sprayed it onto my wrist; I was hit with a sour, citrusy smell. The lemon and lime combination for the top notes was a tad bit too overpowering for me. Soon after the strong opening set in, the middle notes of peonies and Granny Smith apples came in to make their presence known. I barely noticed any hints of the datura and praline. The Virginia cedar and the musk were the saving grace of this disastrous formula. They were the only ingredients that made this creation tolerable for me.
Against my better judgement, I decided to spray this perfume onto my pulse points when the day of my twins' school play came. Whenever I reflect back on that day and I ask myself what exactly I was thinking. My son is intolerant when it comes to strong smells, so it wasn't a surprise when he had his nose scrunched up, and eyebrows pulled together in a frown the entire car ride to their school. My daughter, on the contrary, said she liked the smell of the peonies, but that's about it. As I sat with some other parents during the play, I had a few ladies question me about my perfume due to its strong fragrance. At first, their questions made me think that maybe I had been too judgemental when I first tried it on. However, when one of them got up and changed their seat because they could not "stand the overwhelming gourmand smell," I knew I had messed up by going against my rational thoughts. The perfume actually ended up making a complete stranger create as much distance as they could between us. How embarrassing! 
The perfume faintly lingered on my skin for a couple more hours after the 3 hours of play ended. The silage is the same as its longevity. The fragrance lingered in my room for just about the same time, though only the cedar was noticeable at the end. 
Another notably mortifying thing was how my son stayed clear of my room for the rest of the day. Evidently, the perfume was not a hit with my son, the ladies at the school or myself. Would I repurchase this product? Absolutely not! Would I recommend this to my friends or family member? I think my answer to the previous question is more than enough to tell you that I would not even recommend this perfume to my enemies. It was such a disappointment and indeed taught me not to judge a book by its cover.
Conclusion
Here are my preferred ratings for this somewhat dissatisfying Eau de Toilette: 
Fragrance        4.5/10
Bottle            8/10
Longevity        5.5/10
Silage            5.5/10
Overall         5.9/10
Here is a quick overview of my review of Nina for Women (2006) made by Nina Ricci to cut a long story short.
The Pros are:
Suitable for the spring season.
Moderate longevity and silage.
The Cons are:
The top notes are very overpowering.
Only the base notes are worth noticing.
Very sweet and gourmand which is not liked by everyone.