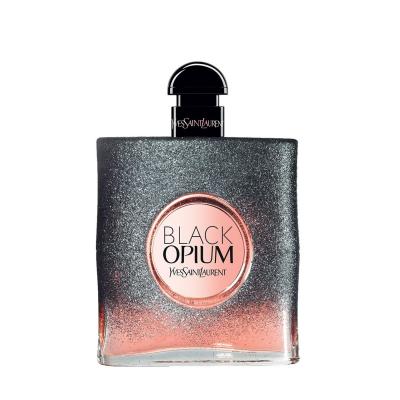 Needing a change in scenario, I had packed my notebooks and textbooks up, got out of my dorm room, and headed off to a café near my university campus. I had been sitting there for about an hour and a half when she came in. A blonde girl donning a red crop top, a pair of whitewashed skinny jeans walked past my table when I got a whiff of her enticing fragrance. Dear Lord did it smell incredible! 
Now, I am a naturally introverted person. So there was no chance of me gathering up the courage to reach out and ask her what perfume she was wearing. Fortunately, I was not the only person who was intrigued by her perfume choice. Not even a second after she sat down at a table behind me, she was approached by two girls inquiring about her scent. I am certainly not embarrassed to admit that I eavesdropped on that conversation and learned that she was wearing the Black Opium for Women by Yves Saint Laurent.
Within a couple of hours, I wrapped up my study session and returned to the comforts of my dorm room, ready to search up this perfume. The official Yves Saint Laurent website gave me five different choices for a bottle of that heaven – 10ml for $30, 30ml for $76, 50ml for $102, 90ml for $128, and 150ml for $155. Being a university student, working two part-time jobs – one on weekdays and the other on weekends – I was not about to splurge all of my money on the bigger bottles offered. After contemplating for a long while, I decided to order the 30ml bottle and spend the money my relatives had gifted me on Christmas.
About Yves Saint Laurent Brand
Yves Saint Laurent, a French fashion designer, founded his namesake brand with his partner, industrialist Pierre Berge, in 1961. It offers numerous products ranging from ready-to-wear clothes, shoes, jewellery, leather goods, and fragrances. Master perfumers Honorine Blanc, Olivier Cresp, Marie Salamagne, and Nathalie Lorson worked together to formulate the French company's iconic Black Opium.
Packaging
When I finally received my order, I eagerly ripped open the clear polythene that was wrapped around the rectangular, black and white box. The box's front and back sides were black, the brand initials YSL written on the front side with glitter. The perfume's name, Black Opium Eau de Parfum, was written on the front of the box in golden lettering along with the capacity of the scent. The back of the package gave a precautionary warning in various languages, listed the ingredients of the fragrance, and had a bar code printed on it. It also had the brand's name and address printed on the back.
The bottle had a glittery, black surface with a rough texture due to the black sequins used in designing it. There was a glass circle in the middle of the bottle on both the front and back sides. The glass on the front side, as expected, had the fragrance's name and brand name written down in a black script. The cap was made of a simple, black plastic with the brand name written in gold.
---
Read more:
Best Givenchy Perfumes For Women Of 2021
Review: Coco Mademoiselle Chanel for Women
Review - Alien Mugler for Women
---
Ingredients and the fragrance
Eleven different ingredients make up the fragrance. The top notes are comprised of pear, pink pepper, and orange blossoms. The middles notes are made of coffee, bitter almond, jasmine, and licorice. And vanilla, cedar, cashmere wood, and patchouli wrap up the fragrance's base notes.
The first couple of sprays brought the distinct smell of orange blossoms and pears to life, giving off a fruity scent. As the top notes settle in slowly, the middle notes slowly make their presence known, the rich scent of coffee, jasmine, and licorice filling the air only to be sharpened by when the pink pepper is thrown into the mixture. It is when the base notes creep that you finally understand how heavenly this fragrance is.
The creamy vanilla wrapping around the striking scent of coffee, followed by the woodsy undertones of cedar and cashmere wood, is what makes the Black Opium as famous as it is. Despite the coffee and vanilla overpowering the rest of the ingredients, a faint fruity-floral tone still lingers in the air alongside the woodsy undertones.
The next day, I sprayed the Eau de Parfum on and made my way to my classes. It ended up turning quite a few heads my way. Even my psychology professor, who always has an impassive expression on her face, did a double-take when I entered the classroom. I was approached by a lot of people requesting to know what fragrance I had put on. 
As it is, no one was surprised when I told them it was one from Saint Laurent. However, everyone had a unique reaction to the scent itself.
Some described it as "warm and spicy," whereas others said it was more "sweet and floral." The only common thing they all commented on was the rich, creamy smell of the coffee and vanilla, which had enticed them all at the very first whiff.
By the end of the day, I still had strong hints of the fragrance on my skin which was definitely a pleasant surprise for me. My dorm room still had a distinct amount of the scent lingering about when I returned. The hilarious part of the entire day was when my roommate finally returned after her classes. Eyebrows furrowed and lips pursed, she looked around the room for some time before finally asking me whether I had gotten a new air freshener or a new scented candle. The look on her face was priceless when I told her that it was just a new perfume I had sprayed on in the morning before leaving for my classes. 
There is no doubt that I would repurchase this perfume after running out of the current bottle I have. It is definitely worth splurging on.
Conclusion
Here are my preferred ratings for this exceptionally alluring perfume:  
Fragrance    9/10
Bottle           8/10
Longevity    8.5/10
Silage           8.5/10
Overall        8.5/10
Here is a quick overview of Black Opium for Women (2014) by Yves Saint Laurent to cut a long story short.
The Pros are:
It is by Yves Saint Laurent.
It is ideal for day-to-day use.
An eye-catching bottle.
Remarkable longevity and silage.
The Cons are:
It is pretty expensive when you look at the price to quantity ratio.
It has garnered widespread popularity, which has made the perfume lose a lot of its uniqueness.