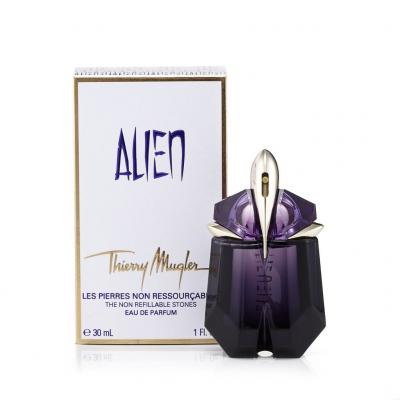 It was a couple of years ago when I used to smell a scent everywhere I went. It was in the shopping malls, elevators, corridors, doctor's visits, university hallway, and dormitories. Surprisingly, even on the stands in our local stadium. Such was its widespread use. It was really fascinating, yet I was shy to ask women about their perfume. I thought people would find it weird and think I am a creep. Hence, I was always gun-shy. Once, I casually mentioned about it to my wife, and she wreaked havoc on me, thinking I was looking at other women. Actually, I wanted to buy it for her, but she would not believe me at all. Thus, began my quest for this perfume.
Luckily though, a distant cousin came over for a short visit. She was wearing that perfume. I was thrilled. When I asked her about it, she told me that it was Alien for Women by Mugler. I had not heard about this Mugler brand. Even the name sounded kind of funny. So, I looked it up on the internet to get the details.
---
Also read:
[REVIEW] Versace Bright Crystal Eau de Toilette Spray for Her
Review: Nina by Nina Ricci for Women
---
The Frenchman, Manfred Thierry Mugler, a fashion designer by profession, was the driving force behind the creation of this perfume.  He enlisted the help of master perfumer Dominique Ropion who is a fellow compatriot, and his protégé, a senior perfumer, Laurent Bruyere, who was initially a self-taught perfumer. The creative minds of these perfumers envisioned and produced a fine piece of work. The widespread popularity of the Alien, launched in 2005, speaks for itself. With the ratings of over 88% across all online platforms, it is a force to be reckoned with. Since it was only Thierry Mugler's second perfume, his first being Angel launched in 1992, and there was a greater hype about this fragrance. I believe Angel's success also contributed to Alien's domination.
I used Amazon.com to order one for my wife. There are three variants of this Eau de Parfum. The 30 ml variant costs $71.33, and the 60 ml variant is priced at $112, and the 90 ml variant is worth $150. Luckily, I managed to get a discount of 24% and ordered the 60 ml variant for $85. But, damn, it burnt a hole in my weekly savings.
I was shocked out of my wits the day the package arrived. Such detailed precision in designing the box is something that you do not see every day. It is an off-white box. The front has a golden border with the word "Alien" written in purple. Thierry Mugler's name is stylised with golden, while the rest of the details is in purple. The bottom of the box contains the UPC Barcode, and the serial number of the box. Both of the sides have holographic wordings of "Alien." It seemed like a meticulous touch to me. The back of the box contained the picture of the bottle on a landscape. It also had "Enhance yourself with Alien Eau de Parfum. The fleeting pleasure of a precious stone bottle that only lives once." Now, that had me intrigued. I guess that same thing was written in four other languages too.
I quickly opened the box to see the mesmerising bottle from the picture. This is definitely the visual highlight of the entire package. It looked like a well-carved purple gemstone. There is no knob in this bottle. The spray button is included on the top of the gemstone. 
The top notes contain only Jasmine. On the other hand, Woodsy Notes were the only middle notes, while White Amber wrapped up the base notes. I was astonished to learn that the perfume that has been driving me crazy was made using three ingredients only. The early 2000s were dominated by fruity floral fragrances that drove everyone crazy. The rendition of Alien was nowhere near that. Hence, it stood out amongst the crowd.
The first spray from the bottle was flamboyant and utterly magnificent. The strong presence of Jasmine could not be any less showy. As its feel sets in, you start to get the hint of Woodsy Notes. A very musky and spicy feeling is generated in a quick transition. Lastly, the White Amber's sweet, warm odour fills your soul with a soothing feeling. How can something be so perfect?
My temperamental wife was electrified when I presented it to her. Funnily, she apologised too once I told her that this is the fragrance I mentioned a while ago. She loves it so much that it is her everyday perfume.  It has such an amazing presence that any woman can easily wear it to important occasions. Whether it is a fund-raiser, a business meeting, a family outing, or regular use, it is suitable for every occasion. As my wife religiously uses it every day, I have noticed that it lasts a very long time. She applies it on her way to work, and when we return home in the evening, it is still there. The longevity of this fragrance is amazing. Guess what is more shocking? The moment I enter the bedroom, I can still smell this scent. It is like its silage is everlasting. Is there some sorcery involved in this? I do not know!
The only drawback, in my opinion, is its price. I find it costly. Yet, I need to find a way in my budget to keep my dear wife happy. I would honestly recommend it to all men I know. Buying this fragrance is a witty way to keep their wives happy.
---
Read also: Perfumes and Fragrances Terms Explained
---
Summary
Here are my preferred ratings for the sensational perfume: 
Fragrance        9/10
Bottle               8/10
Longevity        9/10
Silage               9/10
Overall             8.75/10
Here is a quick overview of my review of Alien for Women (2001) by Mugler to cut a long story short.
The Pros are:
Eau de Parfum has a 7-15% perfume concentration
Long lasting scent
Beautifully crafted gemstone shaped bottle
Extraordinary silage
Marketed by L'Oreal
The Cons are:
Relatively unknown brand
It is overpriced