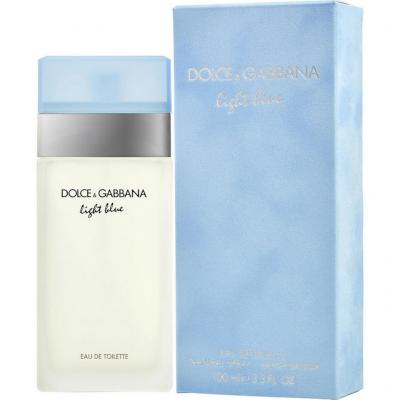 Perfumes and scents are an essential part of one's personality. People are in the habit of using such products to remove the bad odor of their bodies. Sweat is healthy for our body, but it leaves a bad odor on the body, which produces a very insignificant effect on others if one has a stinking smell.
For this purpose, there are many sorts of perfumes and scents on the market and are sold out at high prices too, but here is a well-known scent highly appraised by women named Light Blue for Women Dolce and Gabbana.
---
Also read: Review: Light Blue pour Homme - Dolce & Gabbana
---
History of Light Blue for Women
Dolce and Gabbana's range of perfumes and scents have launched an entire range of scents and fragrances for both men and women. Light blue for women was launched by the Italian fashion designers Dolce and Gabbana in 2001. It was highly demanded in the market due to its purest fragrance, leaving a fresh and enchanting impact on the soul.
Authenticity and originality
Due to the high range of perfumes and scents available in the market, fluctuations in the prices have also been observed. Along with this, it has also been observed that the second-rated and third-rated copies of various brands of cosmetics and perfumes are being sold at low prices by cheating the customers' intelligence.
To check whether the purchased product, such as Light Blue for Women Dolce and Gabbana, is original or fake, always check the tag and the color scheme of the bottle in which the perfume is packed. It is not easy to cheat the customer's intelligence, and it is also not easy to create the exact tags, barcodes, and packaging like the real one.
Packaging also matters a lot, and the original products are usually packed in layers to ensure that the product must reach its customer without any damage. The glass-bottled perfumes are usually packed in Thermopolis packaging and are then finally packed in the box containing the brand's name.
When to use it?
The demands of perfumes and scents increases when the temperature increases because in high and heat stroking temperature regions, people tend to sweat more as compared to the cooler regions because the pores of the body are opened in a warm climate, releasing the sweat and other products through sebaceous glands to filter out the toxins from the body.
After their removal from the body, such toxins left a foul or stinky odor which is usually not liked by the person, so the usage of perfumes or scents increases.
Dolce and Gabbana products are also sold out more in summers, especially the Light Blue for Women. They are more conscious about their personality and always tend to be perfect on every occasion. One is imperfect without using any good sort of perfume or fragrance.
Composition of light blue Dolce and Gabbana for Women
The Light Blue Dolce and Gabbana for Women is a mixture of three notes with different compositions of fragrances worldwide, producing a final result of excellent and unique fragrance. Starting from the sweet fragrant of bellflower to jasmine and then ending at the musk and amber, light blue for women has all those variants women demand to have in their perfumes.
Elements of the top note
The top note of the Light Blue for Women Dolce and Gabbana is composed of fragrances containing Sicilian lemon, apple, cedar, and bellflower. Bellflower used in this perfume is known to give a feminine fragrance releasing a sweet and fruity essence.
Elements of the middle note
The middle note of light blue for women comprises bamboo, jasmine and white rose. Jasmine is a famous flower known worldwide for its sweet and enchanting fragrance and is known to set the mood on its peak for romance. Similarly, the white rose used in this note is known as a curer to improve the mood and empower one's mind and cognitive skills to work better by relaxing them.
Elements of the base note
The base note is composed of cedar, musk, and amber. Musk is a known substance used as a base note in perfumery and is extracted as glandular secretions from animals such as musk deer. Amber used in this note is a combination of many natural and synthetic ingredients giving a fresh, compelling, and powdery feel to the buyer of this perfume upon its application on the body.
Presentation and price range
The original price range of the Light Blue Dolce and Gabbana for Women falls between the 35-45$ and is shipped worldwide. It comes in a beautiful and compelling translucent glass bottle containing the entire range of notes with nine different scents chosen specifically for women.
Dolce and Gabbana always check and choose the unique ingredients for their perfumes and scents to stand out in the market. Women tend to attract to perfumes having a fresh, sweet, and fruity fragrance. And to fulfill this demand, Dolce and Gabbana have launched an entire range of perfumes with such unique features that attract and impress the women through their sweet fragrance, forcing them to purchase the one for their usage.
The price range has been managed while remaining in the budget range of normal people so that it can be an economical product satisfying the needs of both the upper class and the middle class. This perfume is also a good choice if one thinks to gift it to their dears and loved ones.
Conclusion
In short, Light Blue for Women Dolce and Gabbana is the best choice to be selected by the ladies if one is keen and passionate about soothing and calming the soul along with the body. It includes a very good range of ingredients hindering the stinky odor of the body upon its regular usage and is the most demanding among ladies but beware of the copy producers and always select the original one to avoid the drastic effects. Some copy fragrances can also cause severe skin reactions because they have not been through rigorous testing.