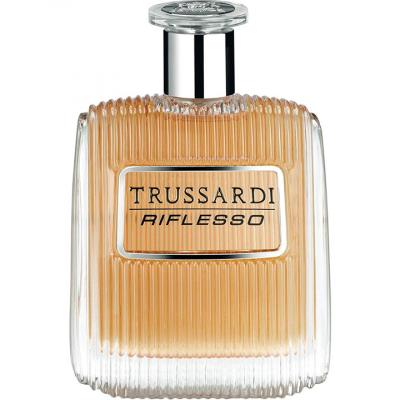 Gone are the days when people used to wash their body with regular soap and used to get ready by simply combing their hairs back. With advancements in technology and digital media, people are now more reluctant to look presentable and impressable in front of others by dressing up elegantly with perfect shoes and branded clothes. But one's personality is incomplete without using a good scent or perfume.
---
Also read:
Review: Light Blue pour Homme - Dolce & Gabbana
Most Popular Men's Perfumes for Summer 2021
---
Imagine that you are looking perfect dressed in your best suit, but your body is stinking in foul odor even after a good shower due to sweat, which is common. To avoid such a situation, here we'll present you one of the most recommended and highly purchased perfumes naming as Trussardi Riflesso, specially designed for men.
History of Trussardi Riflesso for men
Riflesso was launched by Veronique Nyberg in 2017, and it instantly gained much fame among the male gender due to its unique fragrance, leaving a seductive and impressive remark on the people.
Longevity of this perfume
Trussardi Riflesso for men has been given a lot of feedback by its purchasers that this perfume is one of the best, which lasts longer than usual, even in scorching heat in which even an egg can be fried if placed on the hot ground. It has been rated to stay long for more than eight hours after its first punch on the clothes or body.
When to use it?
Trussardi Riflesso for men is designed for men by keeping all the pros and cons of their daily life. Men have to face many trials and errors on a daily basis related to their work and personal life. For which they have to deal with different sort of people outside the walls of the house or the fully furnished air-conditioned rooms.
While doing so in search of a good income, men usually sweat more as compared to the opposite gender, and that sweat will produce some odor on the body, making the other person uncomfortable due to smell.
To tackle such a situation, Trussardi Riflesso is an excellent option to consider if one sweats a lot with odor because of its longevity, along with the sweet and spicy fragrance relieving one's mind from stress.
Moreover, it is also a good option for winters too, giving a sweet scent and is suitable all around the year.
About the scent
Trussardi Riflesso is an impressive and seductive type of fragrance, giving an earthy and leathery smell. It feels fantastic and is considered as a sweetish tobacco accord which is quite bizarre as tobacco note is not mentioned in any of its forms, neither leaves nor flowers, and is not included in any level of the note. But, it is assumed that the smoky leather listed on its note might create such a tobacco-like accord.
This perfume is regarded as a very unusual product for the ones having perfect taste in the selection of scents and perfumes. If one is interested in the scent that has a sweet and powerful scent, then this option is worth considering because this perfume comprises a soft and sweet scent that comes from the tonka beans in combination with violet leaves and geranium making this fragrance a truly addictive one.
Composition of this perfume
The Riflesso Trussardi is a mixture of three different notes having a unique selection of ingredients and plants along with herbs to create a refreshing and long-lasting fragrance that can make one addictive.
Elements of the top note
The top note of this seductive scent is composed of bergamot, pink grapefruit, and green apple. Bergamot, in this note, is used highly by perfume manufacturers all around the world to produce a distinctive product.
Elements of the middle note
The elements used in the middle or heart note are violet leaf absolute, geranium, and lavender. Lavender used in this heart note is known as aromatherapy and promotes calmness and wellness due to its significant sweet fragrance reducing stress and anxiety and increasing the release of stress-free hormones.
Elements of the base note
The elements used in the base note are the tonka beans, vetiver, and Italian leather, which are the basic and foremost ingredients of this scent, making it a world-class scent with a unique fragrance. Tonka beans are used majorly by many scent dealers and are used to blend all the ingredients in a perfume to create a unique and distinct fragrance.
Labeling and tagging
Trussardi Riflesso for men is distributed in a unique and significant sort of packaging in the stylish glass bottle with a silver-colored atomizer so that the buyer can easily punch out the scent from the bottle to apply on the body or clothes. It is further packed in between Thermopolis sheets and then distributed via the main package in which the glass bottle has been packed before.
Due to the increase in the usage of perfumes and scents to maintain the personality, a lot of people are selling and dealing with the third-rated and even the fourth-rated copies of perfumes of different brands cheating the intelligence of the people purchasing the scents.
---
Read more: Review: Creed Aventus For Men
---
It is always advisable to look at the tag and color scheme carefully before purchasing the perfume of any brand as it is not easy to distinguish between the pirated and the original product. And on the other hand, it is also not easy to create the exact product of perfume bottles and tags with the same color scheme.
So, it can be easy to distinguish among the copied and original bottle, and one can protect oneself from the scam and wastage of money because such third-rated and fourth-rated products result in disastrous consequences such as producing itch and rashes on the areas where the perfume is applied massively such as the underarms and the neck region.
These are the areas of the body where sweat is produced in large amount as compared to other and to hinder the bad odor one gets the help of perfumes but try to purchase the original product such as the Trussardi Riflesso for men which falls in the price range between 25-30$.