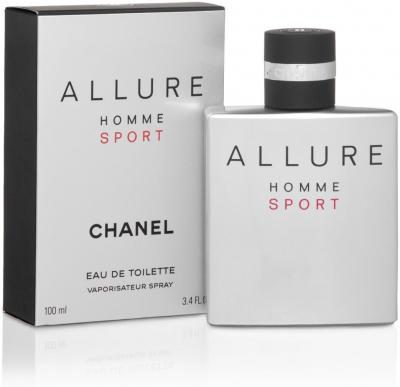 Waiting for an aircraft inside the confinements of the airport can be bothersome. Yet, striking conversations with random strangers you will never meet again sounds interesting. The guy and I were scheduled for the same flight. The moment he walked past me was precisely when the tantalising smell blew me away. I was so mesmerised that I thought about starting a conversation and then gently inquiring about the perfume.
Well, the idea worked, and I found the name of the fragrance "Allure Homme Sport for Men" by Chanel.
---
Also read:
Review: Light Blue pour Homme - Dolce & Gabbana
Review: Luna Rossa Prada for Men
---
Knowing that a reputable global brand is behind the perfume did pique my interest. Chanel has been around for over a century now. Possessing a diverse range of fragrances for almost a century has made them a formidable force in this industry. Since its inception, Chanel has had four different head perfumers over its history of a hundred years. Jacques Polge. His career in Chanel spanning across five decades from 1978 to 2015. He had the second-longest tenure as a head perfumer in the company. His eventual retirement in 2015 saw him being replaced by his son Olivier Polge, who is currently the head perfumer for Chanel. I have used some other Chanel products previously. So, I was confident that this experience would not disappoint me.
I was hell-bent on buying one for myself since I was already familiar with the fragrance. It is available in 3 sizes, namely 50 ml, 100 ml, and 150 ml. It did burn a hole in my pocket, but nothing too drastic since I chose the 50 ml bottle. I was excited when I received the package. I tore apart the packaging to reveal the square-shaped silver bottle with a black cap on it does not seem very expensive or exotic in the first look. Yet,
I knew it was both costly and mesmerising. The premium metallic feel with razor-sharp edges makes it worth the price.
I did dig into the back story of this perfume. The brilliant mind of Jacques Polge developed Allure Homme Sport. It was globally launched in the year 2004. This particular perfume for men has a mixture of 13 different ingredients in them to create an enticing smell. The top notes contain Sea Notes, Aldehydes, Oranges, and Blood Mandarin. A combination of Neroli, Cedar, and Pepper exists in the middle notes. Finally, vanilla, Amber, White Musk, Elemi Resin, Vetiver, and Tonka Beans wrap up the base notes. The so-called unlucky 13 turned out to be pretty lucky for the head perfumer. 
With the first spray from the bottle, it spreads a positive sensation that spreads across the room. My first day at work, with this perfume on, had men and women alike drooling over me. Everyone wanted to know what this perfume is. The fragrance definitely has a strong presence.
Even I could not resist the urge to take deep breaths to take in this lavishing smell. This is by far one of the best men's cologne I have come across. It is easily the safest bet for men. You can smell every single note in that magical bottle, from the top notes through the middle notes to the base notes. All in all, it is an excellent purchase.
This perfume is a mood-changer. It instantly pulls you into a good mood. So, if you are going to an important business meeting or a first date, this should be your perfume of choice. The positive aura is likely to spread and brighten the mood. Likewise, your engagement, professional or personal, is expected to be influenced heavily towards you. The wisely chosen notes live a long-lasting smell that entices both men and women.
Although Chanel advertises it as a sporty fragrance for men, it is suitable for most occasions. This formula works throughout the year, from the hot, sweaty summers to the cold, freezing winters. It never messes up. At the end of a scorching, sweaty day, I could sense the perfume slowly wearing off. But, when I got home, I could still smell this perfume in my bedroom. 
On the other hand, the smell resonated for a more extended period during the bitter, chilly winters. It also leaves moderate silage once you leave the room. I like to think of it as an upper-class perfume. It blends perfectly in a social gathering with socialites where you have to wear a suit and tie, and it also fuses with the small, outdoor neighbourhood gatherings. It is a perfume for all occasions.
Now, the only drawback to this fantastic fragrance is its price. While I love this perfume, I hate to admit that it may be closer to the "overpriced" threshold. The 50 ml bottle is priced at $80, whereas the 100 ml bottle costs $100. And, the 150 ml bottle is worth $135. Many people have disputed that the higher price range makes it difficult to afford for daily usage. Hence, it can only be used occasionally. I am pretty sure a brand like Chanel can lower the price, which would see its sales skyrocket. But, its refusal to do so has left me baffled.
Even after 17 years since its launch, Allure Homme Sport for Men by Chanel has maintained its loyal customer base. It is a famous perfume that most men recommend, including me. However, as millennials and generation z tend to pick up the latest perfume on the rack, Allure Homme Sport has seen a decline in the newer customer base. So, it may not be in mainstream use, but distinctiveness in recent times can make you stand out in the crowd. I have highly recommended this perfume to my near and dear ones.
---
Read more: Most Popular Men's Perfumes for Summer 2021
---
Here are my preferred ratings for the sensational perfume: 
Fragrance       8.5/10
Bottle               7/10
Longevity        8.5/10
Silage               8/10
Overall             8/10
Here is a quick overview of my review of Allure Homme Sport for Men (2004) by Chanel to cut a long story short.
The Pros are:
IT IS CHANEL!
Suitable for all seasons
Ideal for day to day use
Suitable for any events
Long-lasting smell
Beautifully crafted bottle
Amazing silage
The Cons are: