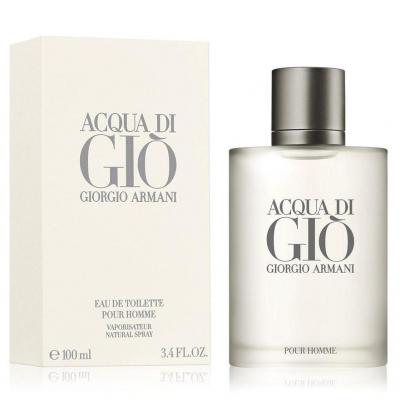 I was fretting a lot about getting something for my better half for his birthday. Finally, after a lot of thoughtful thinking and nail-biting sessions, I decided to get an Armani fragrance. Who does not like their men in Armani? Nobody!
About the brand
The Italian fashion designer Giorgio Armani is the man with the vision. He started trading under his name in 1975. Armani has not been around for too long. Only forty-five years into existence and it has successfully resisted all competitions to be regarded as one of the top brands of the century. Today, the business creatively designs and busily manufactures and distributes a wide range of products, including leather products, customised clothing, eyewear, jewellery, watches, shoes, cosmetics, and other accessories. It is also involved in the creation of luxury hotels in major cities around the world. Perhaps, their best creation is the Armani Hotel in the world's tallest building Burj Khalifa in Dubai. Who could ever dislike a brand of such stature?
Thus, began my quest to find a suitable choice in this brand. Going through many suggestions and online reviews, I decided to buy Acqua di Gio, which seemed to be a very popular choice online. A perfume launched in 1996 and took the world by storm. That is half a decade after my birth. I wondered why I never smelt this fragrance on my dad or my brother. Well, never mind, they are not too fond of fragrances like mum and me.
Packaging
Upon arrival, the packaging was definitely a disappointment. The creamy off-white square-shaped box did not look fancy at all. I wondered why I spent £48.20 for 1.7 fl oz. or 50 ml of this fragrance. The front of the box contained the name of the perfume and its brand, quantity, and eau de toilette written on it. Instantly, I knew that Eau de Toilette meant only 1-3% of perfume concentration. I started regretting this item.
Why was I not thorough when making this purchase? While one side of the box was empty, the other side contained a UPC Barcode. The back of the box had a lot of writing, and I did not have the patience to go through it all. Neither did my better half. The bottom of the box had the product code engraved on it, and the top of the box had "Giorgio Armani Perfume" inscribed on it. That was an amusing touch. The transparent polythene was easy to get rid of and thus came the bottle out of the box. It was a square-shaped bottle with curved edges and blurry glass. The round knob was silver in colour. The front of the bottle had "Acqua di Gio, Giorgio Armani" written on the centre and "Pour Homme" written on the bottom. The bottom of the bottle had the product code written on a silver reflective patch.
The genius minds of two brilliant master perfumers 
Two brilliant master perfumers Alberto Morrillas of Spanish origin and Annick Menardo of French origin, collaborated together to come up with this significant invention. The genius minds used twenty-five different ingredients to make this tantalising fragrance. The top notes consisted of Lemon, Orange, Lime, Mandarin Orange, Jasmine, Bergamot, and Neroli. The middle notes were made up of Calone, Jasmine, Peach, Hyacinth, Rosemary, Sea Notes, Coriander, Freesia, Violet, Rose, Mignonette, Cyclamen, and Nutmeg. Finally, the base notes were wrapped up by Cedar, Amber, White Musk, Patchouli, and Oak Moss. I was not too sure of how good it would smell given that there are twenty-five varieties of natural items in it.
---
More for you:
REVIEW - Ralph Lauren, Polo Black for Him
Review: Light Blue pour Homme - Dolce & Gabbana
REVIEW: Bvlgari Blv Pour Homme
---
The fragrance
All my doubts about the products were dissolved after the first couple of sprays from the bottle. The lovely sweet Jasmine opening is worth smelling. After the pretty loud opening comes the aromatic Rosemary to comfort the swift transition. It helps transition from the top notes to the base notes as it sweetens the experience while the other salty oceanic and floral scents also make their presence known. The aquatic charm is irresistible. I think the scent itself explains the choice of the name. As on their official UK website, the best way to apply it to make the scent last longer is to keep the skin hydrated and then apply it on wrists, inside of your elbow, and behind the ears.
When we moved to our new neighbourhood during the summer, we hosted a nice housewarming party. I made my man wear this fragrance, and I instantly regretted it. Every woman, married or not, had their eyes on him. Was it for his looks or the scent? A little bit of both, maybe! I like to blame the fragrance for it, though.
I loved this smell on my man. It, somehow, made me love him more. He says it lasts long enough, although he would prefer if it lasted a bit longer. And, I can attest to that. The bold silage is pretty commendable too. I can smell him around the house even if he is not there, even though it is very faint. I think Giorgio Armani's best decision in life was to enlist the creative master perfumers from France and Spain to create an impactful perfume that will leave an impression for a very long time. The price is reasonable too. It does not cost an arm and a leg. So, my man's pretty happy with his new perfume.
Summary
Here are my preferred ratings for the extraordinary perfume: 
Fragrance        7.5/10
Bottle              6.5/10
Longevity        7/10
Silage              7/10
Overall             7/10
Here is a quick overview of my review of Acqua di Gio (1996) made by Giorgio Armani to cut a long story short.
The Pros are:
Armani's best piece of work from the 1990s
Dominant sales even after 25 years of existence
Appropriate especially for the summers
Considerably cheap
Strong presence in upper-class socialite or business meetings
Audacious silage
The Cons are:
Its prevalent popularity has caused it to lose its individuality
Does not last long enough
Plain bottle
Not very suitable for winters, as per many reviews.